Magnetic tape blue (50x0.7 mm) ferrite
Code:
MPMO50X0.7
Product detailed description
It is made of a mixture of highly magnetic powder with polyethylene. The final product has a multifunctional use, especially as an advertising medium. The magnetic tape can be easily cut by hand. Desired shapes can be also readily stamped, cut out, or punched out by the machine. Before using the magnetic tape, it is sufficient to clean the smooth and even surface on which the tape is to be applied. The tape should be applied, as far as possible, at room temperature, which guarantees the highest elasticity and processability of the foil. We recommend removing dirt from the surface of the magnetic tape with a mixture of warm water and a common cleaning agent once a week.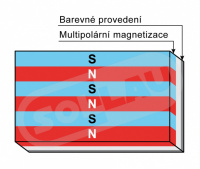 Using the tape use is versatile; it can be used in logistics, warehousing, and education (for writing as a flipchart). It can also be used as warning boards, warning signs, greeting cards, pictograms, gifts, firm promotional items with the company logo, ads media on cars, etc.
Multipolar magnetization - the magnetization direction changes every few millimeters at magnetic tapes, i.e. the north and south poles are spread in stripes and alternate in close succession. This leads to an increase in adhesion at direct contact with ferromagnetic surfaces. Admittedly, more poles increase the adhesion strength but reduce the range of the tape's magnetic field. Thicker tapes usually have fewer magnetic poles. Lamellar magnetization also affects how the magnetic tape can be combined.