Self-adhesive magnetic tape 3M (20x1.5 mm) neodym
Code:
MPS-N20-1.5
Product detailed description
The self-adhesive flexible magnetic tape has a magnetic layer on one side and an extra-adhesive self-adhesive layer (3M 9448) on the other side. It is mainly used in retail, exhibitions, and advertising for a quick attachment of trading boards, photographs, posters, and other items at points of sale. They are also ideal for a quickly creatable magnetic layer on printed products. They find their application in offices, workshops, and households. We supply self-adhesive magnetic tapes in various widths and thicknesses (ordinary or "strong-neodymium" ones) so that each customer can find a suitable type for his/her use. Our self-adhesive magnetic tapes are disposable in widths of 10 mm, 15 mm, 25 mm, 35 mm, 40 mm, and 50 mm. To attach a magnetic tape to any surface, simply remove their plastic tape from the self-adhesive side and place it where necessary. As the tapes are wound into rolls, their required length can be measured out precisely and individually.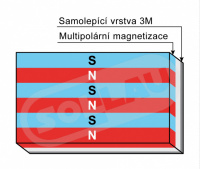 Multipolar magnetization - the magnetization direction changes every few millimeters at magnetic tapes, i.e. the north and south poles are spread in stripes and alternate in close succession. This leads to an increase in adhesion at direct contact with ferromagnetic surfaces. Admittedly, more poles increase the adhesion strength but reduce the range of the tape's magnetic field. Thicker tapes usually have fewer magnetic poles. Lamellar magnetization also affects how the magnetic tape can be combined.
Application options:
graphic marking - quickly removable, writable, colored, shape-adjustable with ordinary scissors (use in storehouses, workshops, offices, schools, and households)

warning and safety signs - in warehouses, workshops, transport, for framing

Advertising labels - on cars, shop windows, stands, advertising banners, and cutouts

copying and printing - in various types of printers

connecting material - readily detachable connection of two parts of non-metallic surfaces

visual communication - during presentations in offices, in marketing, at exhibitions

promotional gifts, business cards, name tags, educational toys

decorative, decorative, and attachment markings in the household

sealing of window and door frames, attaching insect screens, etc.
The pull-off force of neodymium magnetic tapes is 450 g/cm².
Additional parameters
Category

:

Self-adhesive magnetic tapes
Type

:

Neodymium
Coating

:

thick 3M self-adhesive layer
Colour

:

Dark brown
Thickness

:

1.5 mm
Width

:

20 mm